Experience Matters
Welcome to my campaign website. As a seasoned attorney with over 37 years of experience litigating civil and criminal cases in the trial and appellate courts, I know how important it is to elect judges that have experience in all areas of the law, a strong work ethic, respect for the Constitution and rule of law, and that will rule fairly and treat all who appear before them with dignity and respect. Judges and attorneys who know me know that I am experienced, professional and trustworthy. I have an AV rating which is the rating given to attorneys who are ranked at the highest level of professional excellence for their legal expertise, communication skills, and ethical standards by their peers. I have the experience, integrity and qualifications necessary to be an outstanding jurist and look forward to earning your vote in the Republican Primary to serve you as Judge of Collin County Court at Law 5.
The Right Experience! The Right Choice!
Tuesday, November 7, 2023 1:40 PM
Thank you once again for your support.
Please note that Contribution, Endorsement and Volunteer buttons/pages have been deactivated pending opening of re-election campaign in 2025. This website will be updated at that time. In the meantime, thank you once again for your support and for the opportunity to serve Collin County as Judge of Collin County Court at Law No. 5.
---
Monday, December 19, 2022 9:04 AM
INVESTITURE
Thank you, Collin County, for electing me to serve as Judge of Collin County Court at Law No. 5. It is an honor and a privilege to serve the citizens of Collin County.
My Investiture ceremony will be held in the Central Jury Room beginning at 2:30 p.m., on January 19, 2023.
Thank you once again for this opportunity to be of service.
NOTE NEW TIME AND DATE!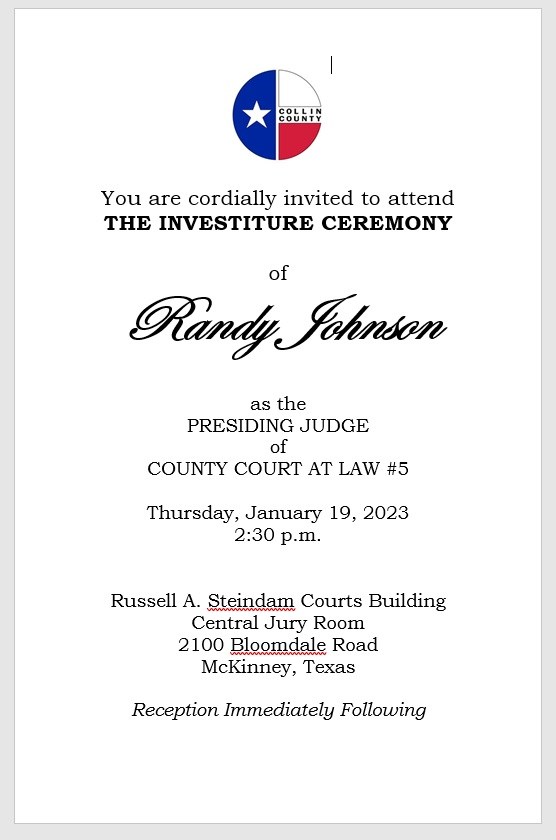 ---
Wednesday, June 1, 2022 5:36 AM
RUNOFF WIN!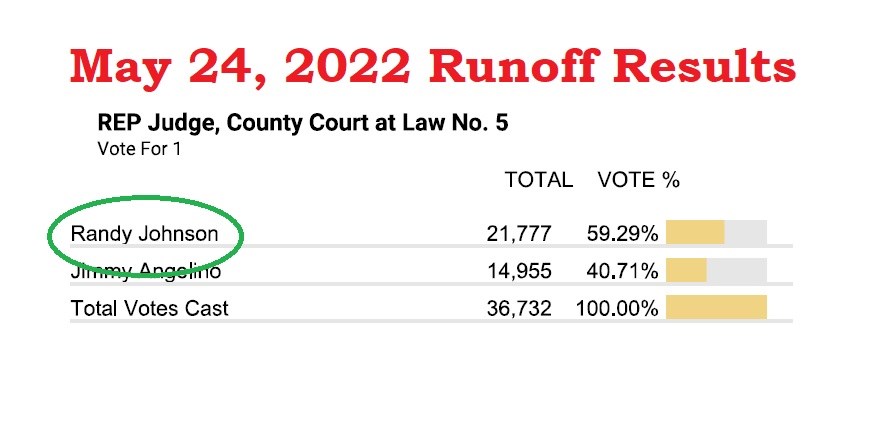 Thank you Collin County for your votes and support! Randy Johnson